President
Mark Murphy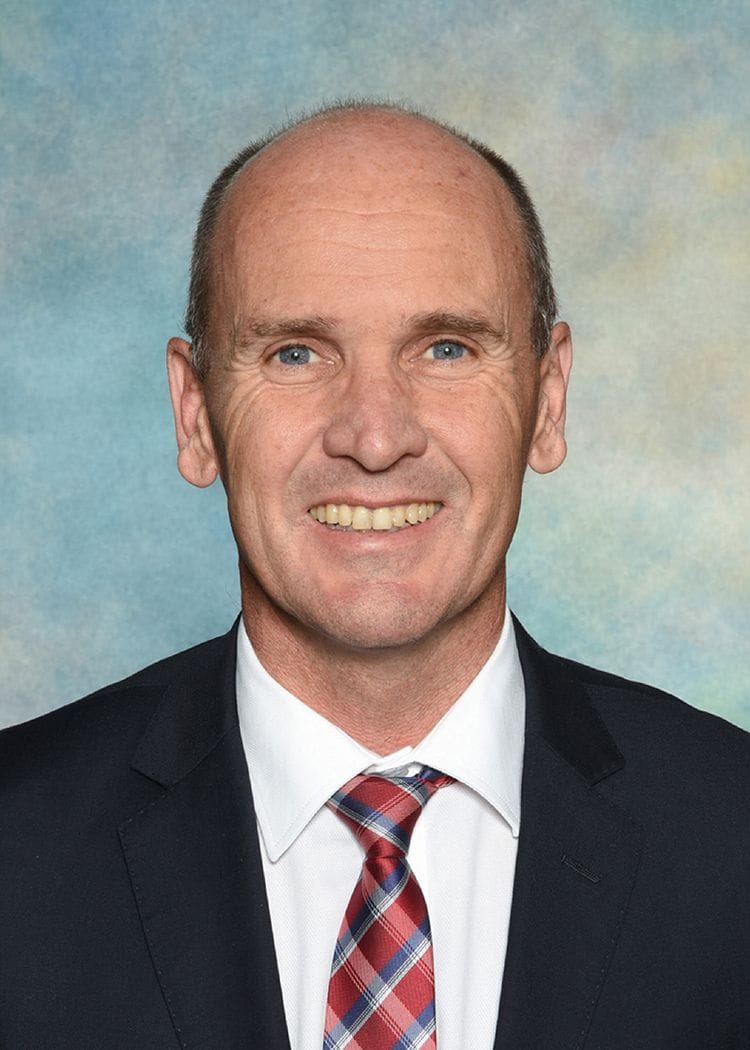 Principal
Whitefriars
156 Park Road
Donvale Victoria 3111
Email: mmurphy@whitefriars.vic.edu.au
Phone: 03 9872 8200
Qualifications: Dip T. (Primary) BA, B.Theol. Grad. Dip. Ed. Studies (Student Wellbeing), MSL, MBA (Exec.)
Mark Murphy has been in Catholic Education for the past 34 years. In 2020 he commenced as the Principal of Whitefriars College Donvale. Prior to that Mark was the Principal of Marcellin College Bulleen for 11 years. Mark has also taught and held various leadership positions at St. Joseph's College, Ferntree Gully, St. Peter's College Cranbourne and Nazareth College, Noble Park North. Mark was educated by the Carmelites at Whitefriars before commencing his tertiary studies at Christ College, Oakleigh then later at Monash, YTU, Melbourne University and ACU.
Mark has been a member of the PAVCSS Executive since 2011 and PAVCSS President since 2019. He was a long serving member of the Faith and Enrichment committee ( 2012 to 2018) and Chair of that committee from 2017-18. Mark was inducted as Chartered Fellow of the PACCSS in November 2019.
---

Vice-President
Gaynor Robson-Garth
Principal
Siena College, 815 Riversdale Road Camberwell
Email: grgarth@siena.vic.edu.au
Phone: 03 9853 0200

Qualifications: B.Sc., Dip. Ed, M.Ed.,
2017 is Gaynor's 11th year as Principal of Siena College. Gaynor has taught in both Catholic and State schools in South Africa, New South Wales and Victoria.

---

Treasurer
Andrew Watson
Principal
Thomas Carr College
Thomas Carr Drive Tarneit Vic 3029
Email: andrew.watson@thomascarr.vic.edu.au
Phone: 03 8734 2444
Qualifications: B.Bus., Grad. Dip. Ed., M.Ed., Ed.D., M.A.C.E
Prior to his appointment at Thomas Carr College, Andrew was Principal of Mercy Regional College in Camperdown for six years. During this time he restructured the College focusing on teaching and learning along with completing significant capital redevelopment. Andrew's vision for Thomas Carr College seeks to improve learning and teaching, developing the use of technology across all areas of the College. He also recently announced a $22 million capital development plan for the next 10 years.
Before his appointment as Principal, Andrew held numerous positions of leadership at St Patrick's College during his 9 years there. In 2003 he was appointed the inaugural Head of Senior School.
Andrew commenced his teaching career in Cairns at Trinity Anglican School after completing a Bachelor of Business and a Graduate Diploma of Education. He has since gone on to complete a Master of Education and in 2007 obtained a Doctorate of Education from the Australian Catholic University. His thesis centered on leadership within Catholic Schools.
Andrew is a member of the Australian College of Education, is currently serving on the Executive of the Principals' Association of Victoria of Catholic Secondary Schools and is Secretary/Treasurer of the Regional College Principals Association.
Born in Ballarat Andrew was educated initially by the Mercy Sisters at St Francis Xavier College (Villa Maria) and then by the Christian Brothers at St Patrick's College.
Andrew is an active member of the St James the Apostle Parish in Hoppers Crossing North.

---

Secretary
Kate Dishon
Principal
Mount St Josephs Girls' College
Email: kdishon@msj.vic.edu.au
Phone: 03 8398 2000
Kate is currently the Principal of Mount St Josephs Girls' College, Altona. She was the founding Principal of Catholic Regional College Caroline Springs where she worked for nine years. During her twenty six years in Catholic Education she has held numerous positions of Leadership including as Deputy Principal of Catholic Regional College Sydenham where she was responsible for Curriculum, Staff Welfare and Professional Development. Kate also worked as an Education Officer in the Curriculum Service Department at the Catholic Education Office, Melbourne and held that position for four years. Kate worked for ten years at Catholic Regional College Melton and held number of leadership positions at the College.
Kate is a member of the LPUC committee and is a PAVCSS representative on the CEM Child Safety Committee.

---

Executive Officer
Mr. Paul Ryan
PAVCSS Office
c/o Loyola College
325 Grimshaw Street Watsonia
Email: ryanp@loyola.vic.edu.au
Phone: 03 94330261
Fax: 03 9432-2476

Paul Ryan spent seventeen years in the State system of Education before moving to the Catholic system in 1986. He taught for a year at Catholic Regional College North Keilor (1986). He then moved to Loyola College Watsonia in 1987 as Director of Studies and subsequently Director of Students. Paul was appointed Deputy Principal at Loyola in 1998 and retired from that role at the end of 2004.
Paul enjoys a range of activities in semi-retirement: family life, golf, travel, reading and farm activities.